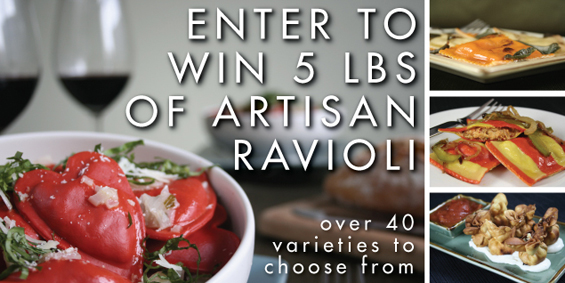 So my friends over at Marx Foods are having a give-away.  And by friends I mean people I would seriously like to eat dinner with every.single.night.   I don't know them personally and I have no association with Marx Foods other than if I win the lottery I'm spending it all at one time in one place.  
Some of you (ok, my mom and sister) will be shocked I'm sharing this give-away opportunity and decreasing my odds of winning 5 pounds of artisan ravioli.  But surely if you, dear reader, are the lucky winner you would share the bounty with saucymomma?!?!
Have fun checking out Marx Foods and hurry to enter the contest.  I'm torn between all of these mouth watering raviolis, but I think Husband would be rendered speechless if I served him the Osso Buco Girasole Gigante. Don't you love how that rolls off your tongue? Personally, I think the Point Reyes and Braised Fig might bring on world peace.
After you come back to your senses, come back here and let me know what ravioli you will share would choose if you win.  Have fun!